The Bariatric Evac Mat has been specifically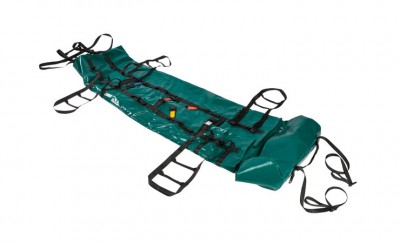 designed for the Bariatric Market. Safe Load tested to 70 stones and a maximum recommended limit of 50 stones the Bariatric Evac Mat with its cavernous inside will hold the patient and if required their emergency equipment as well.
In hospitals the Bariatric Evac Mat is being moved around with the Bariatric patient.
Features:
Safe Load Tested to 70 Stone or 445kg
Manufacturers maximum recommended weight of 50 stones or 318kg.
Five colour coded restraining straps which are Velcro fixed.
A long ladder style tow strap at the foot end for team hand grips allow more than one person to grab hols of the strap.
Four ladder style hand grips along the sides for lateral movement on landings.
Comes in its own carry bag with carry handle at the top.
Specification
Packed

64 x 37 x 32cm
Unrolled

220 x 60cm with two side panels each up to 90cm each
Base
5mm polyethelene board
200 xx 61cm
Safe load tested to
445kg
Safe working load
350kg
Upper Fabric

Green Vinyl