The ResQmat is a drag mat which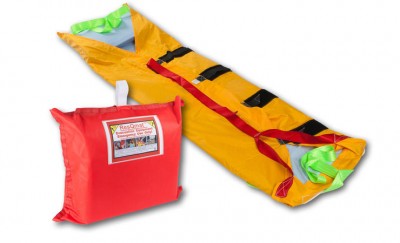 cocoons the patient with high nylon sides. The Velcro straps come over the nylon sides which allow the patient to be completely enclosed. The built in padding and extra pillow under the head means that not only is the patient safe but there is more comfort for the passenger when going down stairs.
Features:
The ResQmat has three restraining straps which are Velcro adjusted
Comes in its own red storage bag with a velcro pull strip for quick release
The ResQmat has a tow strap at each end
Come with a 10cm high pillow
The passenger cannot move or escape from the ResQmat particularly useful if the patient has dementia and is likely to wander off.
Specification
| | |
| --- | --- |
| Packed | 51 x 51 x 22cm |
| Laid flat | 228 x 48cm each side is another 41cm |
| Padding | 225 x 48 x 3cm |
| Base | Polypropylene flexible board |
| Weight | 4kg |
| Safe load tested to | 160kg |
| Safe working load | 120kg |
| Upper Fabric | Yellow Nylon |
Contact us for further information and pricing