The Stairline Apex 130  Stairclimber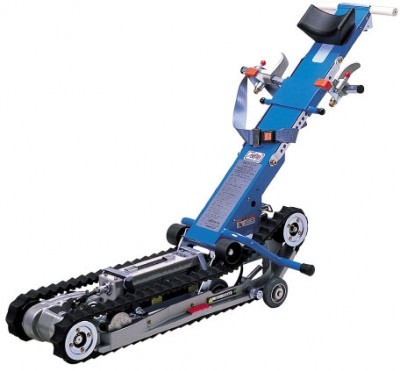 picks up both the wheelchair and passenger and transports them up and downstairs. The stairclimber with its deep ridged caterpillar tracks can take a person weighing up to 130kg up and down the stairs in the maximum amount of safety. Excellent stability and reliability while still offering excellent value.
It is ideal for listed building where other forms of stairwell evacuation are not permitted
The Stairline Apex 130 is capable of a range of 300 up stairs as well as 300 down stairs at a rate of 26 down and 23 up.
Extremely stable wheelchair stairclimber
Easy to operate controls and charge level indicator
Battery is removable for easy charging
Suitable for indoor and outdoor use
 Package includes:
Stair Angle Guide
Handbook
Rechargeable Battery
Battery Charger
Specification
Weight
Climbing Unit: 31kg
Handle: 15kg
12v Battery: 8kg
Dimensions Stored
31 x 64 x 105cm (h x w x d)
Min. Landing size
110 x 110cm
Stair Angle
35 degrees
Capacity
130kg
Speed
Down 26 stairs per minute
Up 23 stairs per minute
Range
600 stairs – 300 up, 300 down
 For a smaller tracked version – the Stairline Compact 150 – which can be manoeuvred on smaller landings click here