The Ski Sheet should be the first stop evacuation method for Hospitals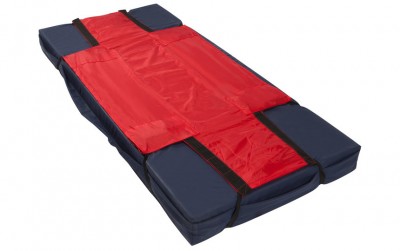 and Care Homes. It provides an excellent method of evacuating patients from wards or bedrooms while the occupant is safely cocooned in their bedding. Positioned on the underside of the bed's mattress the Ski Sheet remains hidden from view on a semi-permanent basis. With the tow straps tucked neatly under the mattress at the head and feet end, while the restraining straps are stored in specially designed pockets, it is ready for action if ever an emergency requires it to do so.
The Ski Sheet can be washed on a regular basis. It is advised to be put on a hot wash inside a pillow case so that the machine is protected from the metal buckles while spinning in the drum and similarly the buckles are protected from the drum.
Features:
2 Towstraps – one at either end
2 restraining straps with aircraft seat style buckles and webbing straps
Elasticated corner straps
Pocket to store the restraining straps until needed
Cost £43.95 ex vat –  £52.74 inclu. vat
Specification
| | |
| --- | --- |
| Packed | 27 x 10 x 13cm |
| Laid flat | 196 x 85cm |
| Weight | 1kg |
| Safe tested to | 160kg |
| Manufacturers rec. weight Capacity | 120kg |
| Material | Nylon |
| Buckles | Aircraft seat belt style |
[youtube]http://www.youtube.com/watch?v=nQKWftJpYd4[/youtube]
For the ski sheets data sheet